Celebrating Irish Book Week 2021 – RTE.ie
Ireland's National Public Service Media
Meáin Náisiúnta Seirbhíse Poiblí na hÉireann
Chair of Bookselling Ireland, Aoife Roantree, introduces Irish Book Week 2021, the annual celebration of Irish authors, publishers, and the bookshops that help keep the industry alive, which runs from 16th – 23rd October.
'The Land of Saints and Scholars': Ireland's reputation for literary excellence goes back well over a thousand years, and we haven't rested on our laurels – this small island has produced Booker Prize winners, Nobel Prize winners, and multimillion copy global bestsellers. The DUBLIN Literary Award is one of the most prestigious (and in the top twenty richest) literary prizes in the world.
In order to better recognise and support Irish books, writers, illustrators, publishers, and bookshops, in 2018 Bookselling Ireland and Publishing Ireland collaborated to launch Irish Book Week – a campaign to remind Irish readers of the wealth of home-grown talent, as well as of the importance of supporting great Irish writing, publishing, and wonderful Irish bookshops.
A very exciting week ahead….. it's Irish Book Week! 😱 We've had so much support since opening our little bookshop in Letterfrack 💕 Pop in to us this week for a browse and to say hello! ☕️🍰📚
#booksatoneletterfrack #connemaraireland #irishbookweek #irishbookweek2021 pic.twitter.com/Q2aM5ENu6A
Never has it been more important to support local creators and local businesses (bookshops and publishers). 2021 has been a difficult year for all of them, as Brexit has caused major disruption to the supply of books to Ireland. Almost four in every five books stocked in Irish bookshops are shipped from the UK (and many more when we consider that Irish-published books are not usually printed in Ireland, but in Europe and the Far East before being transported across the UK landbridge).
Irish publishers and bookshops have risen heroically to the challenge, managing by hook or by crook to get books into Irish readers' hands. It has meant huge stress and long hours (and lots of paperwork), but it has been worth it to see the delight and appreciation of Irish readers both young and old when they get their hands on eagerly-awaited books.
While the past year has been good for book sales overall as tired, stressed, overwhelmed readers all over the world turned to books for comfort and pleasure in extraordinarily difficult circumstances, that benefit was not always seen by bookshops, or at least not to the same extent.
Part of the focus of Irish Book Week this year is to remind Irish readers of their wonderful local bookshops and of the great mutual benefits involved in supporting them. Booksellers are more than sales assistants scanning books through a till, they are usually passionate readers and booklovers who love the opportunity to connect readers with books.
Good morning from @KennysBookshop! pic.twitter.com/GIxli7Jscj
If you loved Sally Rooney's books and are wondering what to read next, your friendly local bookseller might suggest you try Holding Her Breath by Eimear Ryan or The Topeka School by Ben Lerner. If your child doesn't yet love reading but you're trying to encourage it, a bookseller might recommend a non-fiction book on a subject that interests them, or a graphic novel like the Hilda series by Luke Pearson (personal favourites!) or classics like Asterix.
With the prospect of further book supply issues this autumn and winter due to global paper pulp shortages, HGV driver shortages, and customs issues, Irish Book Week is the time to get out to your local bookshop and start your shopping early, remembering that every euro that you spend in an Irish bookshop (and even more so if spent on Irish-published books) means about €2.30 generated in the wider Irish economy. Irish bookshops are bastions – fostering and supporting Irish creativity and engaging with their local communities.
This day next week (Wed Oct 20th), watch as this window will be transformed into a Haunted Bookshop (as voted for by our customers & followers) by none other than @PJLynchArt! This is to celebrate #IrishBookWeek in assoc with @KidsBooksIrel & @artscouncil_ie 👻🦇📚 @BooksellingI pic.twitter.com/7bfMzYx5hz
As Sebastian Barry, Irish Book Week Ambassador 2020, said, "Our bookshops are the lighthouses for every writerly boat on the ocean. Without them we cannot set sail. They are the little churches and heroic temples of our endeavours."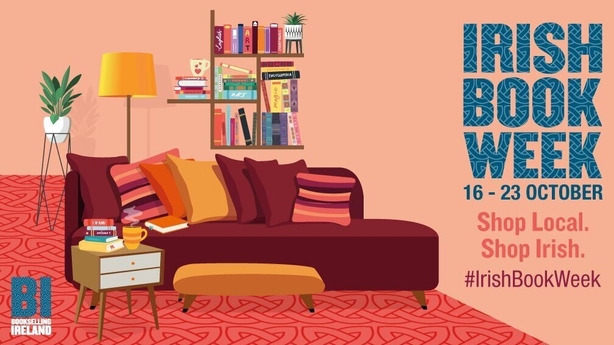 Irish Book Week 2021 runs from 16th – 23rd October – find out more here.
© RTÉ 2021. RTÉ.ie is the website of Raidió Teilifís Éireann, Ireland's National Public Service Media. RTÉ is not responsible for the content of external internet sites.